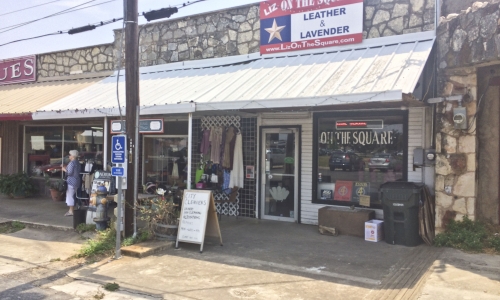 Visit us in Blanco, Texas
405-A 3rd Street
Blanco, Texas
Open Daily
Monday-Friday 10am-4:30pm
Saturday 10am-4pm
Holidays & Sunday 11am-3pm
Closed Thanksgiving, Christmas, and Easter
City Cleaners Laundry and Dry Cleaning
Blanco Location Only
Pick Up & Drop-Off on Mondays & Thursdays
Liz On The Square in Blanco is a drop-off and pick-up location for City Cleaners. They specialize not only in cleaning, but they do it with the environment in mind. City Cleaners uses only sustainable, non-toxic agents making your place – and the environment – as clean as possible.
Dry Cleaning
Laundered Shirts
Alterations
Household Items
Gifts
We specialize in gifts that are locally made, Texas made, and Made in the USA.
Stop by! We want you to see what we have. When it's time to get that gift, we hope you think of a local or Texas gift.
Made in Texas
Fredericksburg Farms
Candles, Foods, Soaps, Lotions
Music of the Spheres Chimes
NULUV Goatsmilk
Soaps, Lotions, Body Butter
Comfort Candles
Lucy Hammetts Bingo Games
Onion Creek Kitchen/Juniper Hills Farms
Foods & Spices
McHarp Celtic Crosses
Nerium Age-Defying Products
Made in the USA
Yankee Candles
Leanin' Tree Cards
Manual Woodworker and Weavers Throw Pillows
Find Liz On The Square
We've been located On The Square in Blanco, Texas since 1999. With our wide selection of unique items, you'll have to see it to believe it. Stop by, say hello, and see what you find.
Have fun shopping! You deserve it!